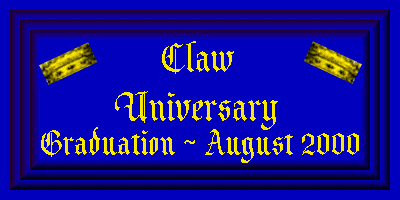 Purrs and Welcome to our Graduation from Claw University. We are two furry proud kitties. We have furthered our education and will hopefully be ready to enter into all of our nine lives a lot smarter. We will try to use all that we have learned to be much better kitties.
We wish to thank the Teacher-kitties at claw for their patience and kindness.
Thank you Queen Midnight for all that you have done to make Claw all that it could have been. With the closing of Claw, we just want to say, we will miss you and Claw.
Thank you Rhett Kincaid Butler, University President, for always being 'there' for us. And for the many transcripts and your guidence.
Also last, but not least, Miss Pinkerton, University Vice President, for your help and guidence.
Claw, and Claw University have given both of us so much. It is a shame that we didn't give as much as we were given. We have made some great friends and will cherish all that we received from this great group.
Thanks to all. We find we are getting teary-eyed over all of this.
Good luck to all of our Claw friends.
Purrs and Paw Pats...
Scully & Fox

Scully & Fox are now Level Two Claw Members.
They both proudly display their new cards!!!