Mice...
Some people hate them while others have them as pets. Well, no matter which side of the mousehole you're on, have you ever wondered what they do when you're not looking?
I've managed to find some mice who aren't camera shy and didn't ask for residuals from their appearances. Let's just take a look and see what's going on. :-)

This is Charlie. He's the lookout for cats and brooms!!

This is the favorite movie of mice everywhere!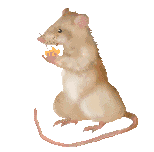 Cheese is, of course, the food of choice.

This is Fred and Ginger. They're the quiet ones unless one of their stocks goes up in value!!

Cathy, who used to live here, was always tormented by the house cat. Wonder if she'll ever return?

This is Sam. He runs the Mouse Carpool. He's getting ready for all the mice to load into the car for their outing. Maybe they'll have some great stories to tell when they return...
Please Visit Again!! Thanks for Coming!
{BACK}
This page was authored by ~ Panda Hugs
She is off line now, but hopefully will return soon. [gg]