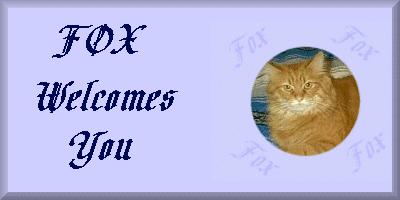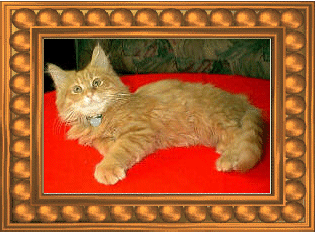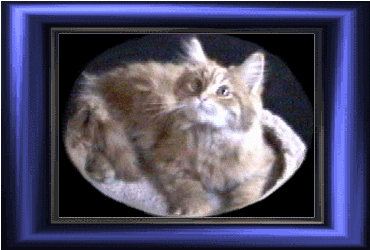 Birthday ~ August 11,1998
Hi, my name is Fox. I was adopted from the 'Lake County Humane Society' in Ohio. My kitty mom had four of us that were taken to the shelter. I was the last one left on that wonderful Saturday morning,
November 21,1998.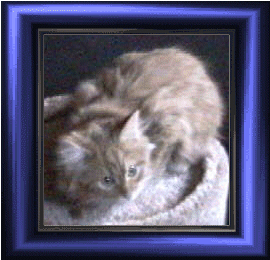 I saw two people walk in together and the big man went over to the other side of the room. The lady seemed to have spotted me and was on her way over to me and the big man called to her to come over where he was. No... don't go...come to me!! But, she did go to him and that little girl kitty. I lied back down, lost my chance again. I do enjoy lying down. I do it as much as possible!!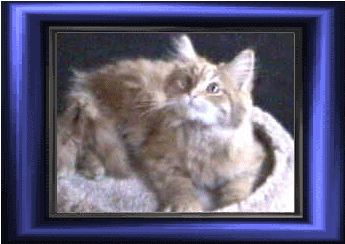 I glanced up again, and here she came...with the big man!! She was talking to him, "look at this cute little fella". "We have never had an orange kitty, or a boy", she said. Here was my chance..I turned that motor of mine on 'full'!! It seemed to be doing the trick. Next thing I knew, I was being taken out of my cage and off to the playroom we went. The other kitty was with us... We all played and I just showed the people how well behaved I am and how much of a 'love kitty' I am. I just love to snuggle and please, whenever you get a chance, rub my tummy~ In fact just pet me all of the time!!! I was placed into a carrier and away we went. When we got to our new home the other kitty went and hid. My new meowmee wanted to pet me...so I just stayed and let her!!! She has my permission anytime...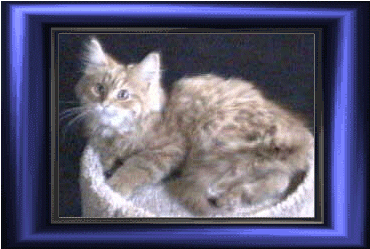 BTW ~ I was proudly neutered in January of 1999. Meowmee said I was a really good boy to have this done. Now there will not be as many homeless kitties. It is everybody's job to have their male furbabies neutered. I'm still the same kitty, playful and happy.... maybe a little better cause I don't ever want to go outside now!!! Please, do your part...have your boy furbabies neutered. It is not only a female's responsibility!!!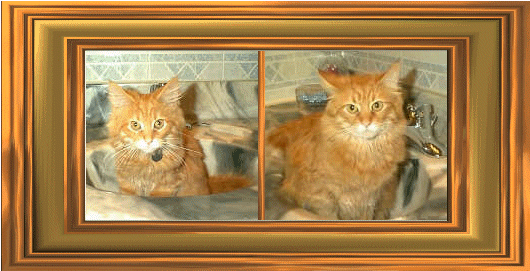 January 1999 ~~~ January 2000
Fox has grown quite a bit. The above pictures were a shocker to us. Over the years we sometime forget just how small are furbabies once were!!!
Want to see more cute photos of Fox?
~~~ Fox's Photo Album ~~~
~~ Click Here ~~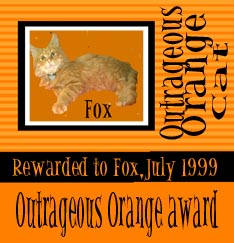 My Very First Award
Just For Me ~ Cause I'm Orange!!!
From My Friends ~Chester,Cheech, Puffer
And Their Meomie, Judy
At LuvKittys
7~29~1999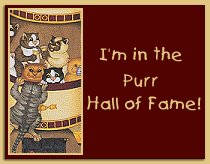 ~ January 2000 ~
I'm in the 'Purr-o-meter' at Dog's Site.
Just click above to go there too!!!