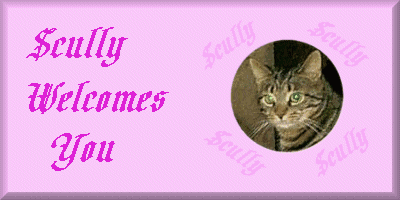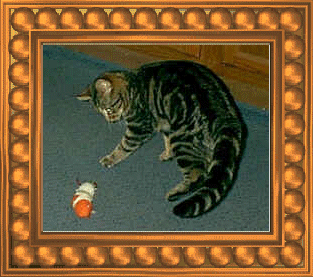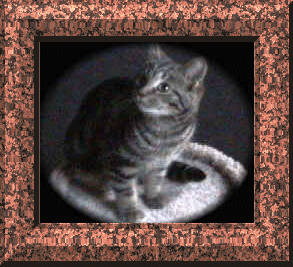 Birthday ~ May 22,1998
Hi, my name is Scully. I was adopted from Lake County Humane Society in Ohio. All that is known about my past is that I was found alongside a road and taken to the shelter. I was all alone, no siblings or mommy. They cleaned me up and fed me some yummy food. Everyone there was so very mice to me. They also checked me over to see how healthy I was and then they gave me a shot and placed me into my very own cage. It wasn't too bad there, but I longed for a home of my own...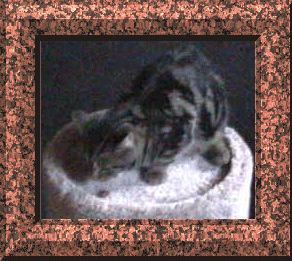 On Saturday morning, November 21,1998 I was watching people come into the shelter. In walked a big man with his wife. He looked just like the type of man that I wanted for my Paw!! Wait, is he walking over to my cage? Yes, he is and he is calling to his wife, "look here, isn't this little girl cute". Wow, here was my chance. I turned on my charm and my motor. I started rubbing up against my cage. Next thing I knew, he was reaching through the bars and petting me. Yes, maybe it was working!! They stayed there for a while and were cooing at me and telling me how cute I was. Then, they walked away. Wait, come back!!!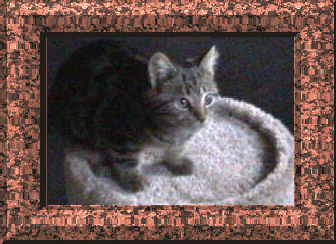 I watched them go over to another cage. They were looking at another kitty, but wait.... Here they come again with the shelter worker. They are carrying another kitty but they are taking me out of my cage too... We all went into the playroom and they took turns holding each of us and petting us. Then they placed us on the floor together. We just looked at each other, I figured I had better be on my good behavior...no hissing allowed!! Next thing I knew, they had placed us in these cages and we were going somewhere... Yes, they had taken me to my new home. They let me out of the cage and this place was big so...I went and hid!! They came and found me and we just sat around and I got petted and fed for the rest of the day~ I'm gonna like it here...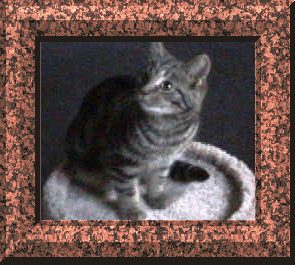 December 30,1998
I am doing very well in my new home. I survived the water squirts so far very well!! I had a little problem with the tree in the family room, but soon learned it was not placed there for me to play with, just for me to look at!! The gifts under the tree were okay for me to walk on though. I never tore at the bows like some kitties do. I was very well behaved indeed!!
I went to the vet again yesterday and am up to five pounds three ounces. I started out at three pounds eight ounces. I eat everything I can get my paws on, including the foods on the Christmas buffet. I have a meat and cheese tooth!! My Meowmee's cheese potatoes were one of my favorites this holiday (when she wasn't watching me)!!

January 1999
I have an appointment to go to the vet in two weeks. Meowmee said I'm getting to be a big girl now and it is time to be spayed, whatever that is. I guess I do not have a choice in this matter, but I will go because meowmee said so!! I will try to be a brave girl about all of this. I have to go and take a nap now. All of this thinking has made me very ready for a cat-nap.

Well folks, I did it... I have been spayed and am such a proud little girl. Heaven knows we don't need any more little furbabies at the shelters. I'm doing my part to prevent un-wanted kittens. Are you doing your part too??? It is every kitty's responsibility!!! Please help combat this problem, spay or neuter your pet, now!!! (-:}

Meowmee has taken some very cute pictures of me. The most current are on the first page. Please stop and see how much I have grown. My Paw said I am 'Daddy's Little Girl'.
~ ** Scully's Photo Album ** ~
~~ Click Here ~~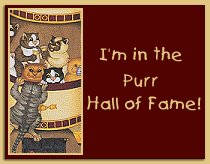 ~ January 2000 ~
I'm in the 'Purr-o-meter' at Dog's Site.
Just click on my souvenir above to go there too!!!